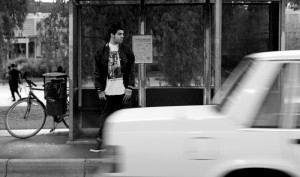 Kaanquest släppte nyligen en av 2009 års tyngsta remixer i låten The Anthem (Remix), där inga mindre än Mohammed Ali, Pato Pooh, Supersci, Prop Dylan, Hermanos Bernal, Parham, Iron African, Trainspotters, Academics, Finess, Kodie, Toffer, Cleo, Mojizzle, X-Man & ADL gästade. Låten har på kort tid bland annat uppmärksammats av Timbuktu på P3 Hiphop och fått Veckans Kyss av Ametist på SR Metropol. Och nu fortsätter conquesten.
I en tid av mallbaserade produktioner och urtvättade topics så bestämmer sig 21-årige Kaanquest för att droppa en konceptlåt med dramaturgiska drag om ignoranta personer. Låten heter Waiting For The Bus och är producerad exklusivt av The Busdriver.
ps. Kaanquest är just nu i studion och jobbar på nytt material så han behöver nödvändigtvis inte vänta på bussen längre.
Länka till detta inlägg?
Vill du länka till detta inlägg använd http://blog.whoa.nu/2009/11/19/kaanquest-waiting-for-the-bus/. Vi har tyvärr blivit tvungna att hindra direktlänkar till våra mp3/zip-filer pga. för höga kostnader för bandbredd.
Relaterade länkar:
www.twitter.com/kaanquest
www.myspace.com/kaanquestmusic
www.youtube.com/user/FrankWordsTV
Lyssna på Kaanquest – The Anthem (Remix) här.
Ladda ner Kaanquest – The Anthem (Remix) här.
Forumtråd: [Veckans MP3] Kaanquest – Waiting For The Bus
Läs mer: