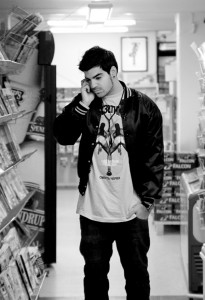 Minns ni The Anthem som var veckans mp3 hos oss i februari? Ni vet låten där rapparen Kaanquest hade samarbetat med legendaren ADL. Nu följer artisten upp singelsläppet med vad som ser ut att bli 2009 års tyngsta remix. Kom ihåg var ni läste det först.
På The Anthem (Remix) hörs i tur och ordning: Pato Pooh, Finess, Rewind (Trainspotters), George Kaplan (Trainspotters), Academics, X-Man, Prop Dylan, Iron African, Kodie, Parham, Ali (Mohammed Ali), Mohammed (Mohammed Ali), Mr. Noun (Supersci), Baby Arka (Supersci), Mojizzle, Cleo, Toffer, Cristian Bernal (Hermanos Bernal), Rodde Bernal (Hermanos Bernal), Kaanquest & ADL.
Låten är formad i en av hiphopens riktigaste former, nämligen cyphern, och varje rappare går in och bjuder på sin stil för en 'lyrical slaughterfest'. Låten är producerad av Haidar från tidigare Hidemoney medan alla cuts är lagda av Chefen.
Ladda ner Kaanquest – The Anthem (Remix) här!
Kaanquest jobbar just nu på kommande material, så håll utkik! Tills vidare så kan ni lyssna på The Anthem (Remix) och kolla nedan.
_______________________________________________________
Originallåten, The Anthem feat. ADL
blog.whoa.nu/2009/02/19/kaanquest-feat-adl-the-anthem/
Kaanquest spottade även bars för Random Bastards TV nyligen, kolla på det här:
www.youtube.com/watch?v=wke6c4MeDZ0
www.whoa.nu/forum/svensk-hiphop/audio-och-video/670593/1.aspx
Följ Kaanquest här:
www.twitter.com/kaanquest
www.myspace.com/kaanquestmusic
www.youtube.com/user/FrankWordsTV
Forumtråd: [Audio] Kaanquest – The Anthem (Remix) ft. Mohammed Ali, Pato Pooh, Supersci, Trainspotters m.fl!
Läs mer: