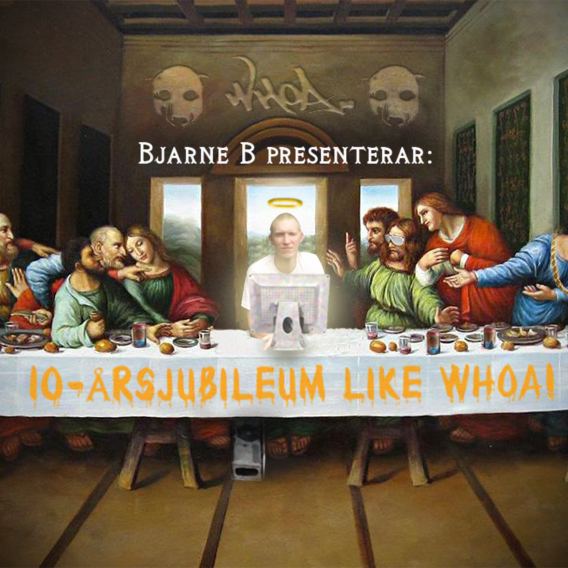 Över 1600 sidvisningar hittills, men födelsedagsljusen fortsätter att brinna starkt. Missa inte Bjarne Bs mixtape 10-årsjubileum like Whoa! som samlar mängder av feta låtar som släppts som Veckans MP3 här hos oss under årens lopp. Passa på och minns tillbaka eller varför inte upptäcka de guldkorn som du av någon anledning kanske har missat så här långt.
Ladda hem Bjarne B presenterar: 10-års jubileum like Whoa! genom direktlänken nedanför låtlistan. Närmare 100 minuter med enbart skön hiphop! Viktor Ragnemar har stått för designen av covern.
Låtlista:
Sida A:
Typical Cats – Easy Cause It Is
LMNO & Peshi – From Sweden To California
Sidewalk – Higher
Up Hygh feat. Little Brother – Keep On
PH3 feat. Joey Fever & Skizz – Fristad
Populärmusik feat. Afasi – Tack För Kaffet
Sabotage, Beast1333 & Don Carlsson – Time To Arm
Speech Defect – Get Biz
Sidewalk – Labor
LightHeaded – In the Building
E.u.g – Still Eug
Maddix feat. F.S.V & A. Faulkner – Vissa Drar
Ayesha feat. Jhon-Po – Trata Mal
Fattaru – Fingret Åtom
Zacke – Söndagmorgon
Alpha Omega feat. Daniel Boyacioglu – My Room
Dison The Dice – Dead Broke
The Fo' Shows – Down 4 The Count
Mazy feat. Klaeboe – Escalate
Stockholmssyndromet – Lasta Remix (med Dajanko, Black Sunday, Mc Habit, Abidaz, Chapstahman, C.U.P, Näääk, Nimo & Mackish Price)
Movits! & Zacke – Först Tar Vi Manhattan
Blezz feat. Melodiq – Just Another Day
Guerilla War Tactix – Planet Of The Apes
Marc Swing & G Karma – U.S To Sweden
High, Down and Dirty feat. Mufakka – Ghostbusters
Side Effectz – Two Drunken Poets
Supersci feat. Phonetik & Black Fist – Unified
Mohammed Ali feat. Nano – Porten
Rubix Funktion feat. Deacon The Villain, Choys, Nomad & Mellow – Just Think
Narkimic & Genius Enis – Me & My DJ
Sida B:
Supersci – Ain't No End
Flyphonic feat. Allyawan – Real Recognize Real
Cleo feat. Allyawan & Syster Sol – Witness The Empress
Pure Purpose, Jaquline & Delirium Tremenz – Flavour
E.C – I Love U
eLDhee – They Don't Hear Me Doe
Othello & The Hipknotics – Classic
Kaydee – The Name
UKN (Underklassen) – Drömmer Mig Bort
Alex feat. Oliver Def & Bjarne B – Umesthlm
Jaeger feat. Leon – Blossom
Majestic 3 & Fattaru – S.T.M.L. (ShortTermMemoryLoss)
Zacke feat. Kihlen – Förlorad Generation
Hearin' Aid – Disco Sho'
Sci-Fi & Hands – Poison Of Choice
LADDA HEM NETPLAYEN GENOM ATT KLICKA HÄR
Relaterade länkar och information:
Mer om Whoas historia
Veckans MP3-arkivet på Whoa
Bjarne Bs blogg
Forumtråd: [Whoa Netplay] Bjarne B presenterar: 10-årsjubileum like Whoa!
Läs mer: