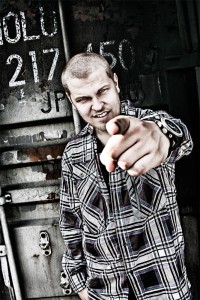 Prop Dylan är rapparen som under 2009 turnerat runt i Centralamerika, Skandinavien och Europa med stora namn som M.O.P., Termanology och Afu-Ra. I januari var han nominerad till Rockbjörnens myspace pris och i maj släppte han sitt andra album Crossing The Bridge, där Masta Ace, Promoe och Supersci gästade. Tittar man längre bak i backspegeln hittas dessutom samarbeten med artister som Wordsworth, Brooklyn Academy, Freestyle (The Arsonists), Benefit, Theodore Unit (Ghostface Killah's crew) och Kashal-Tee.
I väntan på det kommande mixtapet Box of Lost and Found följer svensken nu upp sina tidigare Whoa-släpp We Strive, Fall Out och Can You Imagine med det exklusiva smakprovet What Goes Up. Låten, som är producerad av den polske producenten Bob Air, handlar om hur människor förvandlas inom musikindustrin där den du trodde att du kunde lita på visar sig ha helt andra avsikter. Missa inte detta!
Länka till detta inlägg?
Vill du länka till detta inlägg använd http://blog.whoa.nu/2009/11/05/prop-dylan-what-goes-up/. Vi har tyvärr blivit tvungna att hindra direktlänkar till våra mp3/zip-filer pga. för höga kostnader för bandbredd.
Relaterade länkar:
www.myspace.com/propdylan1
www.propdylan.com
Forumtråd: [Veckans MP3] Prop Dylan – What Goes Up
Läs mer: