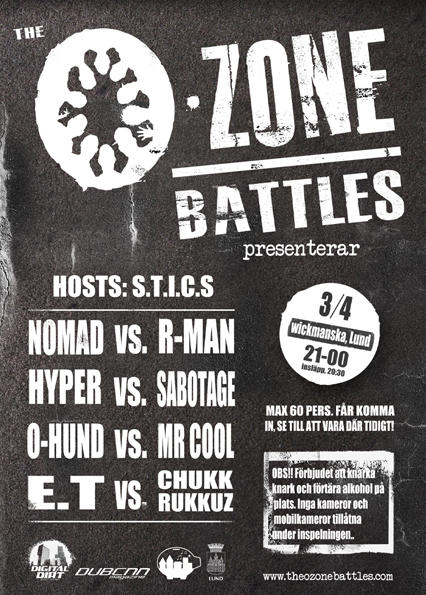 Den som gillar feta battles har förmodligen koll på amerikanska Grind Times vid det här laget.
Här kan du nu kolla in debuten för den svenska motsvarigheten The O-Zone Battles, som är den första acapella-battlen i svensk raphistoria som dokumenterats seriöst för Internet.
Eventet, som ägde rum hos sponsorn Wickmanska i Lund den 3:e april, bjöd på vokala drabbningar mellan Hyper vs Sabotage, E.T vs Chukk Rukkuz, Mr Cool vs O Hund och Nomad vs R-Man. Värdar för kvällen var S.T.I.C.S och bland domarna hittades Professor P, Pancho, Nicke, Shazaam och More-10.
Filmat av Digital Dirt för DubCnn.se i samarbete med The O-Zone Battles. Klippt och redigerat utav Emma Svensson.
————–
Rond 1 – Hyper vs Sabotage
Rond 2 – E.T vs Chukk Rukkuz
Rond 3 – Mr Cool vs O Hund
Rond 4 – Nomad vs R-Man
Relaterade länkar och information:
http://www.dubcnn.se/the-o-zone-battles-premiar-videos/
http://www.theozonebattles.com/
The O-Zone Battles som grupp på Facebook
Forumtråd: [Video] The O-Zone Battles: Premiären
Läs mer: